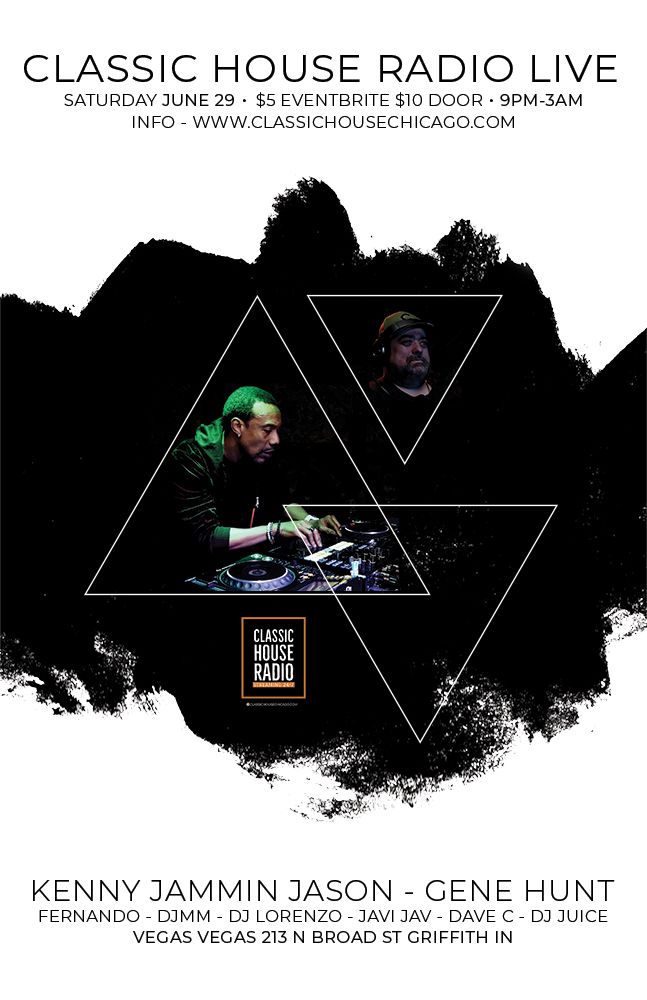 Classic House Radio is back again at Vegas Vegas in Griffith Indiana June 29th 2019. We are bringing original Hotmix 5 member Kenny Jammin Jason plus legendary Chicago dj/producer Mr. Gene Hunt along with Classic House Radio Dj's and guest. 
We had a great time at Vegas Vegas May 25th, our last party there. The pictures are available on our facebook page. 
This is a nice venue with plenty of easy parking. It is located in a nice safe neighborhood. Come join us for a night of old school house music. 
Dj Lineup 
Headliners - 
Kenny Jammin Jason - Hotmix 5 
Gene Hunt 
Classic House Radio Dj's - 
Fernando - 
Dj Lorenzo - 
Dj Magic Mike - 
Guest Dj's - 
Dj Juice - 
Dave C - Chicago Cutting Crew Dj Team 
Javi Jav - 
Tickets 
$5 in advance on Eventbrite - Click Here
$10 @ the door - 
21+ up - 
Dress to impress 
Classic House Radio 
https://classichousechicago.com/ 
Follow us 
https://www.facebook.com/classichouseradio 
https://twitter.com/classichchicago 
https://www.mixcloud.com/classichouseradio/ 
Vegas Vegas 
https://www.facebook.com/VegasBabyBar/ 
Kenny Jamin Jason 
https://www.facebook.com/djkennyjason/ 
Gene Hunt 
https://www.mixcloud.com/gene-hunt/ 
https://www.facebook.com/Gene-Hunt-Chicago-370089433155374/ 
Dave C 
https://www.facebook.com/david.cubero.1650 
https://www.facebook.com/ChicagoCuttingCrewDjTeam/ 
Dj Juice